!Graphics and HTML by Sharplink, 1997>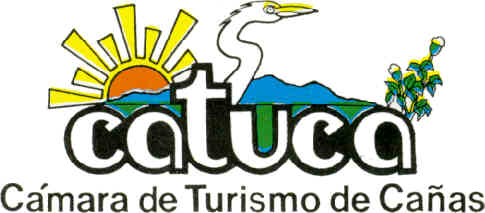 "Chamber of Commerce for Canas"
---
CANAS, GUANACASTE, COSTA RICA


Km. 189 ON THE PANAMERICAN HIGHWAY


Phone:
Fax:

catuca@nicoya.com
---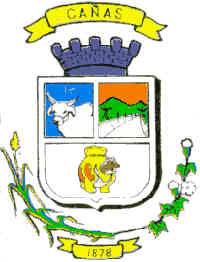 POSICION GEOGRAFICA

El canton de la amistad, esta ubicado en el noroeste de Costa Rica, en la provincia de Guanacaste, en las coordenadas geograficas medias dadas por 10 27 04 latitud norte y 85 06 47 longitud oeste. La anchura maxima es de 6l kms. desde 44OO mts. al oeste de la cima del Cerro Montezuma hasta 2500 mts al sur del muelle del Ferry Tempisque. Con una extension de 682.2 kms.

RESENA HISTORICA

Los Corobicies, habitaron en la epoca precolombina, lo que actualmente es Canas. Ellos se asentaron entre las margenes del Rio Lajas y Tenorio. En el ano de 1522, Gil Gonzalez Davila, descubre la region. La primera referencia de Canas, fue en el ano 1620, segun informe de don Diego de Mercado. El titulo de Villa a la poblaci6n de Canas se le otorgo el 12 de Julio de 1878 en ley No. 9. Monsenor Luis Leipold fundo la primera escuela en el ano 1846, la cual Lleva su nombre. En 1960 inicio sus actividades el Liceo Municipal de Canas, el cual se llamaria luego Liceo Miguel Araya Venegas. Existen dos versiones en relacion con el nombre de Canas, una es que a orillas del rio abundaba la cana brava, dando origen al nombre del rio y luego a la poblacion. La otra version Cuenta que el general Jose Maria Canas efectuo una visita al lugar que en ese tiempo se llamaba el Es- carbadero y en agradecimiento a las atenciones les sugirio ponerle su apellido al canton.

ASPECTOS HUMANOS

Canas cuenta con una poblacion de 30.000 fija y a esto se suma una poblacion flotante que se da por la zafra de la cana, turistica y comercial.

OTROS DATOS DE INTERES

Las elevaciones de los principales centros urbanos son Ciudadde Canas 86 mts., Palmira 220 mts., Bebedero 45 mts. Sus principales cuencas hidrograficas son: Bebedero, Tenorio, Magdalena, Corobici y Canas. La precipitacion anual tiene un promedio de 1200 mm y una temperature promedio de 27 centigrados. Las principales actividades agropecuanas son: cultivo de arroz, cana de azucar, sorgo, algodon y la ganaderia; Canas tambien cuenta con mineralizacion aurifera con sulfuros de hierro, zinc y cobre. Tambion se localiza la presa Magdalena y el PH. Sandillal.



English Version
GEOGRAPHIC POSITION

"El canton de la amistad", is found in the northwest part of Costa Rica, in the Guanacaste province, at the geographic coordinates given as 10 degrees 27 minutes and 04 seconds latitude north and 85 degrees 06 minutes and 06 seconds longitude west.
The maximum width is 61 kms, from 4400 mts. west of the top of the hill of Montezuma to 2500 mts south of the dock at the Tempisque Ferry. The total area is about 682.2 square kms.

HISTORICAL REVIEW

The Corobici Indians were the original inhabitantes of the area now occupied by the township. They settled between the Lajas and Tenorio Rivers during the precolombian epoch.
In the year 1522, Gil Gonzalez Davila was the first european in the region. The first reference to Canas was in the year 1620, according to Mr. Diego de Mercado's report.
The title of village was granted to the population of Canas on the 12th of July 1878 according to the 9th law.
Monsenor Luis Leipold founded the first school in the year 1846, which carries his name. In 1960 the Municipal de Canas high school started its activities, which later would be named the Miguel Araya Venegas High School.
There are two versions as to how Canas got its name. One is that on the rivers edge the wild sugar cane or "la cana brava", was abundant, giving name to the river and then to the population living in the area. The other version is that General Jose Maria Canas made a visit to the place then called "El escarbadero" and then in gratitude for the courtesy given to him he suggested putting his last name to the region.

HUMAN ASPECTS

Canas has a permanent population of 30,000 and to this comes a floating population of tourists who arrive from all over the world.
Canas finds itself in the enviable position of being a major gateway to Palo Verde National Park, Lake Arenal and the active volcano regions, as well as, the famous beaches of the Nicoya Peninsula.

OTHER INTERESTING FACTS

The elevations of the principal urban centers are Canas city 86 mts., Palmira 220 mts., and Bebedero 45 mts.
Its main rivers are Bebedero, Tenorio, Magdalena, Corobici, and Canas.
The annual precipitation averages 1200 mm..
The average daytime temperature is 27 degrees centigrade.
The main agricultural activities are: the cultivation of rice, sugar cane, cotton, and cattle farming. Canas also has mining of sulphides of iron, copper, and zinc.
Also in Canas is the Magdalena Dam and the Sandillal Hydroelectric Dam.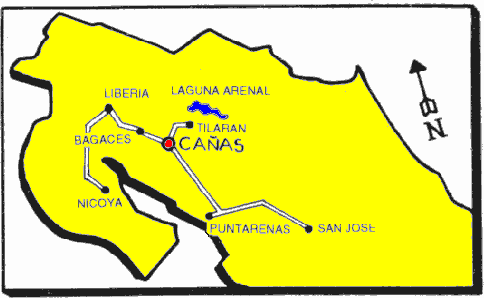 ---
CANAS, GUANACASTE, COSTA RICA


Km. 189 ON THE PANAMERICAN HIGHWAY


Phone:
Fax:

catuca@nicoya.com
---
Back to Nicoya Links