Hotel & Casino
Costa Smeralda

"Where your really important decisions are guaranteed stress free"
Imagine waking up to a spectacular hilltop view of the turquoise Pacific; to the caress of sea breezes on your face; to endless sunshine.
Imagine the riot of color and exotic perfumes as you stroll through tropical gardens; the mysterious grandeur of dry forests that blanket surrounding hills; the music of birdsong.
Imagine yourself at Costa Smeralda
---


Golfo de Papagayo
GUANACASTE, COSTA RICA


68 comfortable rooms * air conditioning
satellite T.V. * room service
gift shop * conference room
Italian restaurant * snack bar
live music * casino * full entertainment
fishing * diving * tour information

...Dreaming, Fishing, Diving, Kayaking, Sunbathing, or simply Relaxing


for reservations:

Phone: (506) 671-0191 / 671-0192 / 671-0193 / 671-0194
/ 671-0195 / 671-0196 / 671-0197 / 671-0198
Fax: (506) 672-0041

smeralda@sol.racsa.co.cr
---
geographic location and room description

Costa Smeralda Hotel, Resort and Casino, is located on a hillside just a few steps from the warm waters of the Pacific Ocean in Playa Buena at Culebra Bay, a sunny province of Guanacaste in northwest Costa Rica.
Here we have created what we consider a real work of art. Making sure all little details will be there in order to meet all your expectations and more. Sixty four comfortable standard rooms and four luxurious suites, all of them with ocean views, feature one king size or two queen size beds, hot water, tub and shower, satellite T.V., all in room amenities, closet, desk, and a small living room set, using the most beautiful Costarican woods. The suites also feature a huge bathroom decorated with Italian tiles, a jacuzzi and a bigger living room.

Restaurant, pool, and conference room

A beautiful swimming pool, with one of a kind shape will transport you to the most exclusive tropical atmosphere. Nearby is an indian style snack bar, all done with palm tree leaves and utilizing ancient techniques, where we serve fast foods for those who prefer a snack by the pool. And of course there is a little pool for the children.

When its time for formal dining, we can really show off!! Our restaurant presents the best of the Italian and international cuisine, introducing the best of the tropical crops and the freshest sea food. At Costa Smeralda Hotel and Resort, we have understood that having a good meal is not just a matter of good food, but also the atmosphere where you eat. So just imagine being served by skilled waiters, utilizing the finest silverware and linen while gazing over the ever green gardens of the hotel at the gorgeous view of the boundless ocean at your feet.

We also have a 300 m2 conference room, fully equipped with an audio video system, air-conditioning, rest rooms, and bar. An open terrace for coffee breaks, located on top of the main building with a breathtaking view, would make any meeting or conference a success.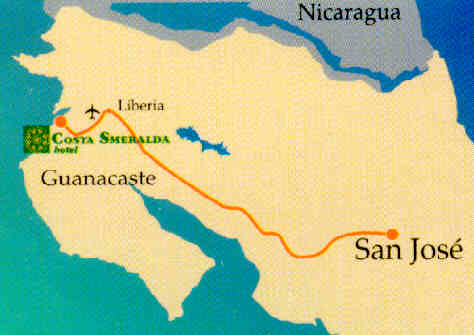 ---
GOLFO DE PAPAGAYO, GUANACASTE, COSTA RICA


In today's world we sometimes forget the simple things that give life meaning..


for reservations:

Phone:(506) 671-0191/ 671-0192/ 671-0193 / 671-0194
/ 671-0195 / 671-0196 / 671-0197 / 671-0198
Fax:(506) 672-0041

smeralda@sol.racsa.co.cr
---
Back to Nicoya Links